1967 Customized Roundtail V6 Spider
3.0 Litre Conversion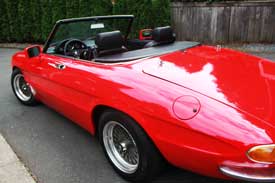 I have completed my 1967 customized roundtail Alfa Romeo Spider conversion. I used a 1991 3.0 litre, 12 valve, 164 engine. This time, I wanted to keep things simple, so I fabricated an intake manifold and installed a 4 barrel, Holley carburetor. The only thing electronic is the ignition. I'm using a 1991 Spider transmission and original drivetrain. The performance is awesome. The torque, power and acceleration (especially in third, fourth and fifth gears), is incredible! Oh the sound of that V6 - - exotic! Driveability around town at low speeds is nice and smooth, without any hesitation and idles smoothly at 800 rpm. I installed a 1991 Spider brake booster and master cylinder, as well as a clutch master cylinder. The interior (complete with dashboard and gauges), windshield, windshield frame, doors and mirrors are also from a 1991 Spider.

I'm very pleased with the look and performance of this car, and it's so much fun to drive on a sunny day. I'm getting lots of compliments everywhere I drive, especially about that Holley! There's lots of potential for styling and performance, with different combinations of interiors, wheels and tires, and Holley carburetion, etc.