Links and Recognition
Classic Alfa Romeo Parts & Spares - Bertone, Spider & more - Classic Alfa is the site for classic Alfa Romeo cars, parts, spares, and accessories for sale.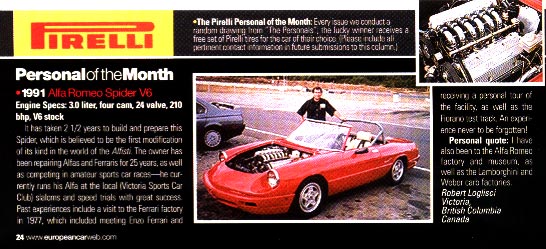 European Car Magazine: September 2001, (Volume 32, No.9).
Some of you may have already seen this article, where a story was featured about me and my Alfa V6 Conversion. As a result of this article, I fortunately won a free set of Pirelli tires, which fit great on my '67 Duetto!
Home Car Care: mobile automotive car care, we come to you!
Riccardo Patrese: The Ricardo Patrese tribute site.
Serpent Auto Sport: wheels, body kits, ans accessories for Alfa Romeo cars
Victoria Motor Sports Car Club: Member since the early 1980's, the club recognizes racing accomplishments and awards.
Centreline International
Alfaholics
OKP Parts

Link To Us
If you would like to exchange links with us please email the details of your site. Our link code is provided below:
<a href="http://www.romanracing.com">Roman Racing</a> - Alfa Spider V6 conversion